☕

Roadmap to CFO

To:

Brew Readers
---
A Fortune 500 CFO's path to the top finance spot.
| PRESENTED BY | |
| --- | --- |
Hello, and welcome to the short week. Despite the recent news from OpenAI, we still think the most shocking item of the last week is Snoop Dogg's announcement that he's given up smoking cannabis was actually just an ad campaign.
In this issue:
Leading through uncertainty
Banish the boring
Rolling stock
—Drew Adamek, Courtney Vien
Suky Upadhyay
Heading up supply chain at a Fortune 500 global company is no easy task. Geopolitical tensions, climate-related natural disasters, inflationary pressure, unfavorable foreign exchange rates, and a host of other factors make the role a challenging one. Combine that head of supply chain role with a CFO's, and the pressure amplifies.
But Suky Upadhyay is up to the task.
Upadhyay is CFO and EVP, finance, operations, and supply chain of global operations at Zimmer Biomet, a leading manufacturer of orthopedic implants. The company employs around 17,000 people, and had revenues of $6.94 billion last year.
He spoke with CFO Brew about how he's prepared himself for the new role and his path to becoming CFO at a Fortune 500 company.
Let's face it: Manual invoicing processes are outdated and inefficient. The traditional OCR approach leaves finance pros with longer processing times and lower-quality invoices.
Luckily, with SmartPDF invoices, your invoice woes can be a thing of the past.
Basware's SmartPDF is modernizing invoice processing and giving accuracy a much-needed boost. Process up to 92% of invoices automatically with up to 100% data accuracy. Yup, you read that right—up to 100% accuracy. (Um, yes please.)
Learn how Basware is transforming the invoicing process in their e-book, Beyond OCR: Unlocking the Power of AI to Revolutionize Invoice Ingestion. It digs into everything you need to know about the benefits of an AI-based solution, including how it:
streamlines supplier onboarding

integrates with existing systems

improves accuracy + reduces costs



Pch-Vector/Getty Images
Eric Emans has been interested in automating accounting work throughout his career. As an auditor at Deloitte in the early 2000s, he taught himself Access and SQL so he could automate some of the more repetitive parts of his job. Now, he's CFO at Nintex, a producer of software that automates processes and workflows for finance in other departments. He spoke with CFO Brew about the accounting shortage and which parts of accounting should—and shouldn't—be delegated to technology.
This interview has been lightly edited for length and clarity.
What to you is an appropriate and an inappropriate use of automation?
The place for automation is the stuff that happens every single month. I don't want somebody thinking about sending a rent check out every month. There's also a lot of stuff in AR that can be automated, like setting up a program that [alerts a customer]: "Hey, five days from such-and-such, you owe us money." And then I would say quote to cash and variance analysis.
What I don't want a machine doing is looking at a one-off contract and having to look at the warranty clauses, having to look at the limitation of liability, the ability to terminate the contract, the bundling of software. That's where I want my people spending their time.
Everybody's saying, "Oh, technology is going to get rid of accountants." It's not. Economic substance in a contract is very hard to measure and it takes the gray matter between somebody's ears to figure a lot of these things out. Often, [someone] actually has to go talk to the people that contracted. It's super important to level accountants up to get that experience.
Wisman
Kyle Wismans is CFO of XPO, one of the largest providers of less-than-truckload (LTL) shipping in North America. A public company headquartered in Greenwich, Connecticut, XPO employs 22,000 people and makes more than 12 million shipments per year. Wismans spoke with CFO Brew about his role, and about the investments he plans to make to help grow his company's capacity.
This interview has been lightly edited for length and clarity.
What advice would you give somebody who aspires to become a CFO?
Go deep. Pick one of the subdisciplines within finance. I spent over a decade in FP&A. That helped me understand businesses, both here at XPO and in my prior jobs, and that's how I became adept at looking at a lot of data, identifying trends, and thinking through what needed to happen. That helped me become a more proactive leader.
Second thing I'd say is, you've got to get in the field. You're not going to learn as much behind the desk as you will being in the field with your team. Building those connections is how you become a strong, not just CFO, but leader of a company.
Dive into expense management. How does the number of businesses using expense management software compare to those using email, spreadsheet, or paper-based processes? And what are the top frustrations midsize companies report having with their expense processes? Find out in Rho's latest report, based on interviews and surveys of 500+ middle-market businesses.
Level up your career with these resources from our sponsors!
Francis Scialabba
Today's top finance reads.
Stat: $60 million. That's how much the Consumer Financial Protection Bureau is fining Toyota Motor Credit Corporation for tacking on expensive extras to car loans and preventing consumers from canceling those add-ons. (CNBC)
Quote: "Earnings apocalypse has not occurred. Despite all the concern about 'too high' earnings estimates this year, aggregate earnings surprise has been well above average for the first three quarters. Percentage of companies beating also near historical highs, while guidance trends remain buoyant."—Brian Belski, chief investment strategist at BMO, on the staying power of corporate earnings despite widespread pessimism. (Business Insider)
Read: Sorting out the winners and losers of the OpenAI mess.
(the New York Times)
AI's got the power: Manual invoice processes = unnecessary complications and errors. With an AI-driven OCR, inefficiencies are a thing of the past. Get the scoop on Basware's game-changing SmartPDF in their Beyond OCR e-book.*
*A message from our sponsor.
MB
Interested in speaking at a CFO Brew event? Get your name on the list for our new monthly virtual event series! We're looking for industry experts with compelling stories and valuable experience, a commitment to educating and engaging audiences, and, of course, a sense of humor. Whether you're an expert in digital transformation, the IPO market, or anything in between, we want your voice to be featured at our next event.
Share CFO Brew with your coworkers, acquire free Brew swag, and then make new friends as a result of your fresh Brew swag.
We're saying we'll give you free stuff and more friends if you share a link. One link.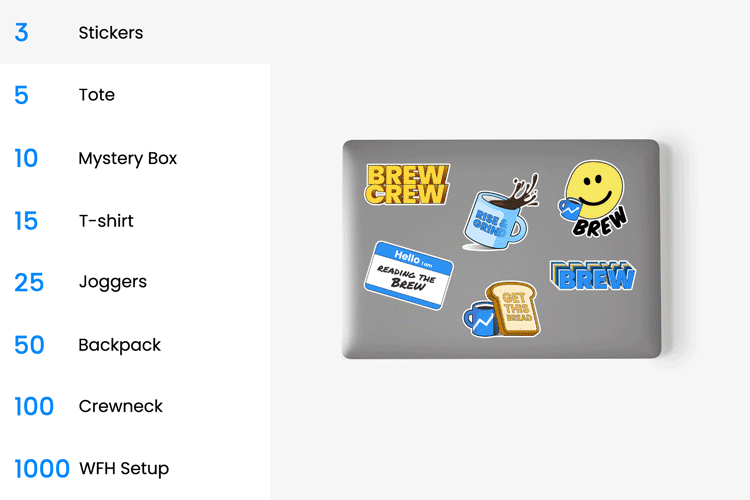 Your referral count: 2
Click to Share
Or copy & paste your referral link to others:
cfobrew.com/r/?kid=9ec4d467
✳︎ A Note From Rho
Banking services provided and cards issued by Webster Bank, N.A., Member FDIC. International and foreign currency payments services provided by Wise US, Inc. Treasury Management services provided by American Deposit Management, LLC. All Rights reserved. © 2019-2023 Under Technologies, Inc. DBA Rho Technologies. Rho is a trademark of Under Technologies, Inc. Rho is not a bank. Rho partners with FDIC-insured banks to offer banking products and services.

Written by Drew Adamek and Courtney Vien
Was this email forwarded to you? Sign up here
Take The Brew to work
Get smarter in just 5 minutes
Business education without the BS
Interested in podcasts?
ADVERTISE // CAREERS // SHOP // FAQ

Update your email preferences or unsubscribe here.
View our privacy policy here.

Copyright © 2023 Morning Brew. All rights reserved.
22 W 19th St, 4th Floor, New York, NY 10011
News built for finance pros
CFO Brew helps finance pros navigate their roles with insights into risk management, compliance, and strategy through our newsletter, virtual events, and digital guides.